How to choose a shower system?
Generally, the multi-function showers on the market are divided into: rain shower head, hand held shower head, shower system with tub spout and shower body jet. The collection of these four types is the four-function shower. The more functions, the more convenient the subsequent use will be, but the number of pipelines will also increase, resulting in cumbersomeness. You can choose the shower system with the corresponding function according to your needs.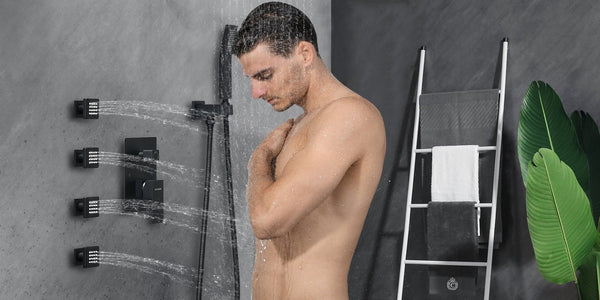 1. Rain Shower Head
When you want to bathe the whole body, it is really cool to spray the shower head from the head to the feet. The larger the shower head, the more comprehensive the wrapping area of the water curtain on the body; Bostingner offer 10 inch and 12 inch shower head.

2. Handheld Shower Head
The most common shower function has the highest usage rate; its hose connection, easy access, flexible and multi-purpose features are very popular among people. Many hand-held showerheads can also switch functions, such as gentle mode, massage mode, pulse mode, etc., whether you want to stimulate or soften, it can satisfy you.

3. Shower System with Tub Spout
The Shower System with Tub Spout will bring your convenience when using the bathtub, you can quickly make water full your bathtub.

4. Shower Body Jet
The Shower Body Jet set delivers a high-volume, invigorating spray for a rejuvenating hydrotherapy experience. Single strong spray pattern impels hydro-massage flow to relieve your muscle tension. Adjustable spray face, Up, down, left, right rotation direction for targeted hydromassage.

In general, I personally recommend everyone to choose a multifunctional shower system set. After all, the more functions, the more convenient it is to use, and you can switch the way you want to shower at will.